Costa-Rica Travel


-1; } function showOldBrowserMessage() { window.location.hash = "browserupdate"; } function createCookie(name,value,minutes) { if (minutes) { var date = new Date(); date.setTime(date.getTime()+(minutes*60*1000)); var expires = "; expires="+date.toGMTString(); } else { var expires = ""; } document.cookie = name+"="+value+expires+"; path=/"; } function checkBroswerVersion() { var version = navigator.userAgent.toString(); var oldBrowsers = ["rv:11.0"] oldBrowsers.forEach(function(oldBrowser) { if (version.indexOf(oldBrowser) > -1 && !hasSeenBrowserAlert()) { showOldBrowserMessage(); createCookie("updateBroswer", "true", 5) } }); } $(document).ready(checkBroswerVersion); ]]>
We recommend upgrading your browser—simply click the button below and follow the instructions that will appear. Updating will allow you to accept Terms and Conditions, make online payments, read our itineraries, and view Dates and Prices.
To get the best experience on our website, please consider using:
Update Browser

Costa Rica may be a small Central American country, occupying just .03% of the world's landmass, but the country boasts 5% of the world's biodiversity. Situated between the Caribbean Sea and the Pacific Ocean, Costa Rica boasts lush mountains, active volcanoes, and verdant valleys. The country's nutrient-rich soil is ideal for cultivating cash crops like coffee, pineapples, sugar, and bananas. In fact, Costa Rica is one of the largest exporter of bananas in the world.
While the agricultural industry dominates Costa Rica's economy, it also emits large amounts of carbon dioxide into the atmosphere. As a result, the nation has been implementing new agricultural practices and making strides toward becoming the first carbon-neutral country in the world by 2021.
Costa Rica's former president, Jose Figueres, sparked the country's passion for environmental change in 1948 when he eliminated the nation's military. This bold move boosted funds for environmental protection, healthcare, and education. Costa Rica provides universal healthcare to all residents and expatriates living in the country, and the healthcare system ranks higher than the United States. Funding for education has also proved beneficial. Costa Rica is one of the most literate Latin American countries in the Western Hemisphere with a 96.3% literacy rate. This sustainable way of life, and these economic and environmental efforts, are why Costa Rica was named the world's happiest country in 2016 by the New Economics Foundation.
Your FREE Personalized Costa Rica Travel Planning Guide
Thank you for your interest—you may view your Costa Rica Travel Planning Guide below. We hope to see you on the road less traveled soon!
Your FREE Personalized Costa Rica Travel Planning Guide is on its way
Thank you for your interest. Your Costa Rica Travel Planning Guide will arrive in 7-14 business days. We hope to see you soon on the road less traveled.
Costa Rica: Natural Parks & Tropical Forests
Want to continue learning about Costa Rica? Return to our Costa Rica destination page.
Please note: To complete your registration, check your email—we sent you a link to create a password for your account. This link will expire in 24 hours.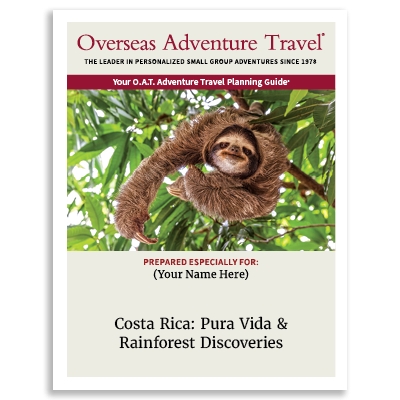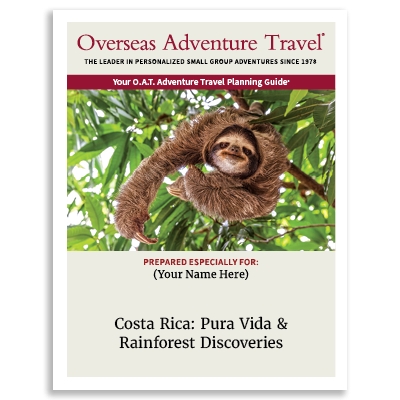 Each of our complimentary O.A.T. Adventure Travel Planning Guides contains more than 80 pages detailing everything you need to know in order to make the most of your next adventure, including:
Detailed hour-by-hour itinerary with suggestions for free time
Incisive overviews of the culture, cuisine, language, history, religion, and more
How to personalize your experience with options to extend your stay, combine adventures, Stopover, and more
Practical tips on packing, currency, and weather
Suggested books and films, useful apps, and websites
Receive Your Complimentary Copy
Find the Adventure That's Right for You
Our Activity Level rating system ranks adventures on a scale of 1 to 5 to help you determine if a trip is right for you. See the descriptions below for more information about the physical requirements associated with each rating.
Activity Level 1:
1 2 3 4 5
Easy
Travelers should be able to climb 25 stairs consecutively, plus walk at least 1-2 miles over some uneven surfaces without difficulty. Walks typically last at least 1-2 hours at a time. Altitude can range from zero to 5,000 feet.
Activity Level 2:
1 2 3 4 5
Moderately Easy
Travelers should be able to climb 40 stairs consecutively, plus walk at least 2-3 miles over some uneven surfaces without difficulty. Walks typically last for at least 2-3 hours at a time. Altitude can range from zero to 5,000 feet.
Activity Level 3:
1 2 3 4 5
Moderate
Travelers should be able to climb 60 stairs consecutively, plus walk at least 3 miles over some steep slopes and loose or uneven surfaces without difficulty. Walks typically last for 3 or more hours at a time. Altitude can range from 5,000 to 7,000 feet.
Activity Level 4:
1 2 3 4 5
Moderately Strenuous
Travelers should be able to climb 80 stairs consecutively, plus walk at least 4 miles over some steep slopes and loose or uneven surfaces without difficulty. Walks typically last for 4 or more hours at a time. Altitude can range from 7,000 to 9,000 feet.
Activity Level 5:
1 2 3 4 5
Strenuous
Travelers should be able to climb 100 or more stairs consecutively, plus walk at least 8 miles over some steep slopes and loose or uneven surfaces without difficulty. Walks typically last for 4 or more hours at a time. Altitude can range from 10,000 feet or more.
*This information is not available for our trip extensions. You must reserve the main trip to participate on this extension.
**This information is not currently available for this trip. Please check back soon.
Recommended Viewing
Watch this video showcasing what makes this country so unforgettable
ReelEarth: Los Caminos de San José
Meet María, a young Costa Rican woman, as she studies for the bar exam—which is not only her path to becoming a lawyer, but symbolizes her hope for a better life.
Recommended Videos
Watch your fellow travelers' favorite films & videos
Glenn's Costa Rican Adventure Submitted by Glenn Gillaspie, 6-time traveler from Beverly Hills, California
Follow traveler Glenn G. on his Costa Rica adventure as he explores the metropolitan streets of San José, watches students perform a traditional dance during his A Day in the Life experience, and zip-lines through the canopy of the Monteverde Cloud Forest.
Costa Rica 2017 with O.A.T. Submitted by William Benson & Vicki Sieber-Benson, 19-time travelers from Westlake, Oregon
Discover Costa Rica with travelers William and Vicki B.—from exhilarating experiences like river rafting and zip-lining to visiting a local school and spotting colorful wildlife during nature walks.
Pura Vida
Let this impressionistic film give you a sense of everyday life for Costa Rica's people, rain forests, and beaches.
Drone de Costa Rica
Get a bird's-eye view of Costa Rica's misty rain forests and verdant hills in this video.
Costa Rica Interactive Map
Click on map markers
below to view information about top Costa Rica experiences
Click here to zoom in and out of this map
*Destinations shown on this map are approximations of exact locations
Manuel Antonio National Park
Located on Costa Rica's Pacific coast, Manuel Antonio National Park is a biodiverse mosaic of white sand beaches, tropical forests, mangrove swamps, and lagoons. Spanning 2.6 square miles, Costa Rica's smallest national park hosts 109 mammal species and 184 bird species. Manuel Antonio also includes 12 islands that are frequented by marine life, such as dolphins and whales. Find where the ocean meets land—squish your toes in the sand at one of the park's many playas, or beaches, and hike through the verdant rainforest where sloths mosey up trees, squirrel monkeys play in the treetops, and colorful crabs burrow into the forest floor.
The Squirrel Monkey of Costa Rica
Let an expert naturalist tell you about Manuel Antonio National Park's most iconic resident.
Explore Manuel Antonio National Park with O.A.T. on:
Poás National Park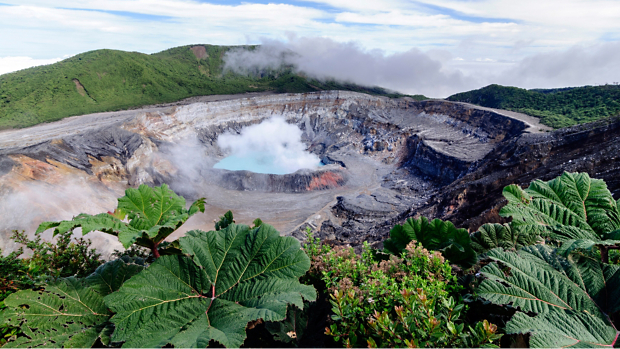 Costa Rica is a hotspot of geothermal activity, but nowhere in this Central American country is quite as rollicking as Poás National Park. Located in the Central Valley Region, the Parque Nacional is home to the world's largest active crater—the Poás volcano.
Unlike most of the world's active volcanoes, visitors to Poás can venture to the crater's edge for a dramatic overhead view of the 900-foot deep and mile-wide volcano. The immense size of this natural wonder will keep you safe from frequent geyser eruptions, which can reach heights of up to 820 feet. Peer through the mist and clouds to watch sulfuric mud heave and bubble in the crater's belly below as rising columns of steam escape from air pockets beneath the earth's surface. While Poás is considered an active volcano—it last erupted in 1953—there is no impending threat of eruption today.
Plus, a myriad of trails in this 16,000-acre park take you through the rainforest and above the clouds. Keep an eye out for the clay-colored robin, Costa Rica's national bird, and the vibrantly-plumed Quetzal.
Explore Poás National Park with O.A.T. on:
Monteverde Cloud Forest Biological Reserve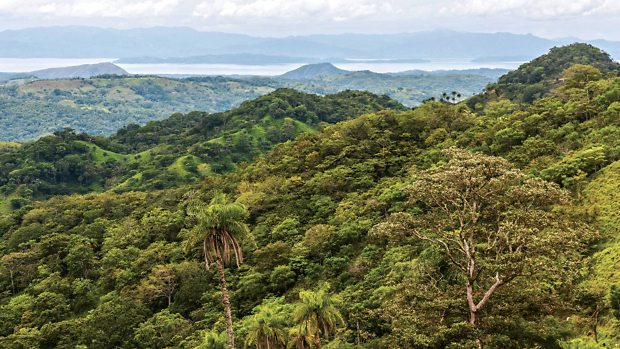 Jaguars peak from behind lush vegetation … wattled bellbirds sing from the treetops … capuchin monkeys bounce from branch to branch … Monteverde Cloud Forest is a tropical wonderland that hosts 2.5% of the world's biodiversity, including six native cat species, 1200 species of reptiles and amphibians, 400 types of birds, and 100 mammal species.
In the 1950s, American Quakers moved to Costa Rica and settled in an area they named Monteverde. Decades later in 1972, George Powell, a geologist, and Wilford Guindon, a Quaker, put into action a plan to acquire this land and preserve its cloud forest. Today the reserve stretches across nearly 25,000 acres of land, which cuts through the continental divide. Hike, raft, zip line, or kayak through this tropical setting to get a true sense of the wonders of nature.
Explore Monteverde Cloud Forest Biological Reserve with O.A.T. on:
Guanacaste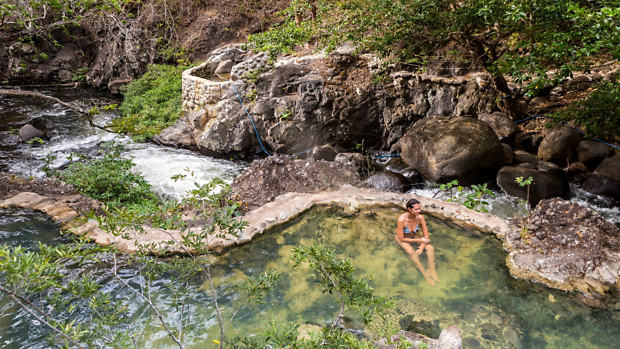 Guanacaste's conservation area, a UNESCO World Heritage Site spanning 363,000 acres, is an ecologically-rich landscape of land and sea—expansive beaches mingle with tropical forests and dry savanna grasslands meet geothermal settings. Whether exploring from above on a zip line, or on the ground by foot or on horseback, keep an eye out for Guanacaste's distinct flora and fauna, including the country's national tree—the Guanacaste Tree. The region's wildlife manages to coexist in this complex ecosystem as well—from armadillos in the dry biomes and jaguars, ocelots, and endangered tapirs in the tropical wet settings. Off the coast of Guanacaste are coral gardens where yet another network of distinct wildlife lives.
An additional Guanacaste treasure is the rustic, geothermal park, Rincón de la Vieja. Surrounded by the Guanacaste Mountain range, this retreat is known for its thermal currents, which produce warm, nutrient-rich mud and natural pools. Visitors typically rejuvenate and relax in the saunas, before enjoying mud "facials" followed by time in the hot springs. This routine is believed to be therapeutic and relieves stress.
Explore Guanacaste with O.A.T. on:
Tortuguero National Park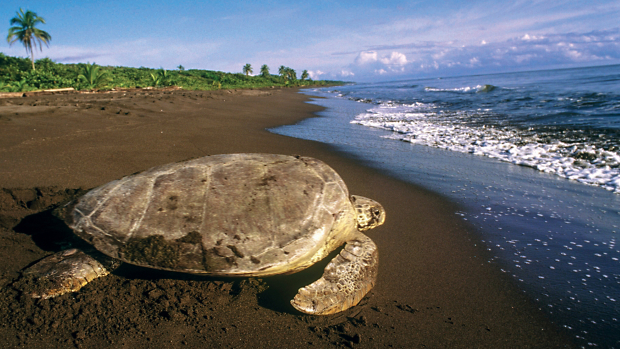 Costa Rica's national parks are teeming with spectacular wildlife—from tropical birds to curious monkeys—and the nearly 50,000-acre Tortuguero National Park is no exception. The distinction between Tortuguero and other Costa Rican retreats is the diverse population of turtles for which the park is named. Tortuguero, or "region of turtles," is home to the endangered green turtle species, as well as leatherback, hawksbill, and loggerhead turtles—four of the world's seven green turtle species.
From beaches to rainforests, Tortuguero stretches across eleven distinct biomes that give way to unmatched natural wonders, which can only be reached by boat or plane. Within Tortguero's rainforest is a complex system of canals. The natural and man-made canals, which serve as the primary mode of transportation, have a dark tint created by plant tannin. Board a boat to get a peak of the park's other wildlife species—including 57 amphibian species, 111 reptile species, and more than 300 species of birds—and snake through the lush jungle by way of black water canals.
Explore Tortuguero National Park with O.A.T. on:
Corcovado National Park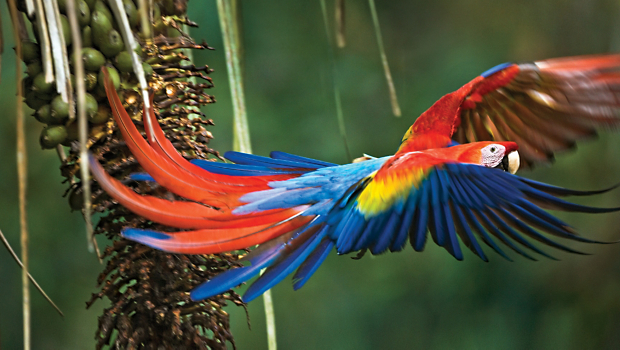 Located on the Osa Peninsula and stretching across 13 major ecosystems, over 260 miles of land, Corcovado National Park hosts half of all of Costa Rica's distinct wildlife. This may be due to the forest's pristine quality. Corcovado is the last remaining old-growth rainforest on the Pacific coast of Central America, meaning the forest's flora and fauna is in near pristine condition. Between the park's complex landscape of cloud forests, mangrove swamps, and coastal habitats are all six species of big cats, 40 frog species, 100 butterfly species, and 400 bird species. Corcovado also protects several endangered animals, including the Baird's tapir—scientists have found that only around 600-800 individual tapirs remain in Costa Rica, Nicaragua, and Panama.
Explore Corcovado National Park with O.A.T. on:
Costa Rica's Sloths
Are these the rain forest's strangest creatures?
by Catherine Groux, from Dispatches
When Spanish writer and historian Gonzalo Fernandez de Oviedo y Valdes first saw sloths on a 16th-century visit to Central America, he wrote that he had never seen such ugly and useless creatures. Modern explorers often meet sloths with the same level of confusion and hesitation—after all, sloths are one of the rain forest's most peculiar creatures. While they are related to anteaters and armadillos, sloths look like neither one, and further separate themselves from other mammals with their lower body temperatures, slow metabolism, and unique skeletal structure. Simply put, there is no creature quite like a sloth.
Sloths are found in the rain forest canopies of Central and South America. While there were once many species of sloths roaming the Earth—including ground-dwelling sloths roughly the size of an adult elephant—today there are five species, which are divided into two families: two-toed and three-toed. Costa Rica in particular houses both two- and three-toed sloths, which can be found in areas like La Fortuna, Monteverde, Tortuguero, and Corcovado, lounging in treetops and feasting on leaves, twigs, and fruit.
With this nutritionally poor diet, sloths conserve their energy by digesting their food very slowly, boasting the slowest digestive rate of any mammal. In fact, their multi-chambered stomachs can take months to digest plant matter. At the same time, sloths preserve energy with their relatively low body temperatures, which, at night, can decline enough to match that of the environment. This low, variable body temperature is highly unusual in mammals, which tend to maintain a constant, higher body temperature.
And of course, moving only when necessary also helps sloths save energy. Known simply as perezosos ("lazy") in Spanish, sloths are famous for their lethargic lifestyle—and for good reason. The average sloth sleeps or rests for about 15 to 20 hours a day, although their specific sleeping schedules vary. Two-toed sloths, for example, are nocturnal, but three-toed sloths may be active at any point during the day or night. However, regardless of the species, these creatures tend to be motionless even when they're awake, only moving when absolutely necessary. In addition to helping them conserve energy, this also allows sloths to hide from predators, blending into the forest canopy with their brown fur, which is often tinged green from algae growth.
However, when sloths need to be on the lookout for predators, they have another interesting advantage: their unusual number of neck vertebrae. While all but a few mammals have seven neck vertebrae, three-toed sloths can have as many as ten. With this unique evolutionary trait, three-toed sloths can rotate their heads up to 270 degrees. This means that a sloth can easily move its head to scan for danger without having to move the rest of its body—yet another method of saving precious energy.
While these qualities make sloths well equipped for life in the treetops, they don't spend their entire lives in the canopy: Sloths climb down from their high-up homes about once a week to defecate and urinate. During this weekly custom, they descend to the base of the tree, dig a small hole, void themselves, and cover their droppings. This 30-minute ritual not only uses a lot of energy, but it also puts sloths at great risk of being captured by predators, such as jaguars and ocelots, which are far better suited to life on the forest floor than the arboreal sloths. For this reason, biologists are still confused about why sloths would continue their risky trips to the ground.
Sloths are not natural fighters, but when they find themselves cornered by a predator on the forest floor, they are forced to rely on their only method of defense: their razor-sharp claws. These three- to four-inch-long claws are designed to help sloths hang upside down from tree branches for days at a time, but if a sloth feels threatened—either by a predator or a fellow sloth trying to infringe on its space—it will fight for its life with these sharp claws.
As Oviedo y Valdes wrote in the 16th century, sloths are certainly not the most attractive or active animals in the rain forest. But throughout time, they have evolved to become perfectly suited for a lethargic life in the canopy, where they can still be seen today—lazing in the trees with a quiet smile, blissfully unaware that they are one of the world's strangest creatures.
Are these the rain forest's strangest creatures?
Costa Rica's Hard-Fought Peace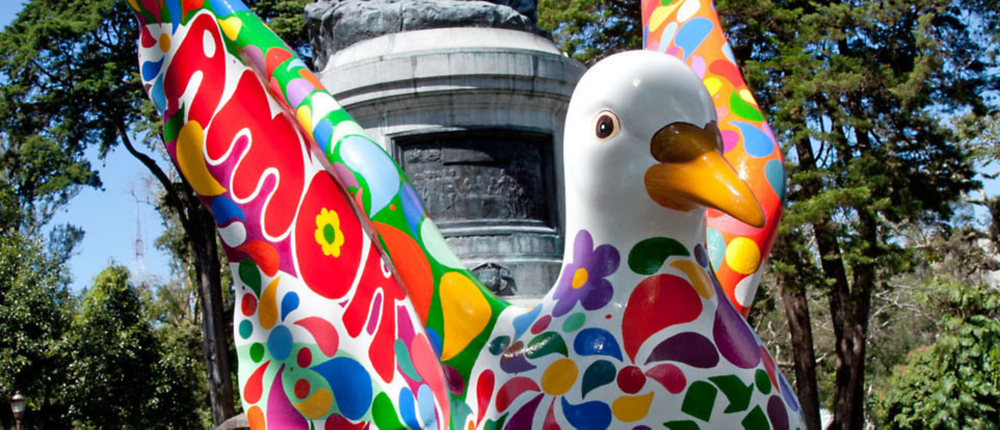 60 years without an army
by David Valdes-Greenwood, for O.A.T.
On a university campus in Costa Rica, there is a plaque on a concrete wall that might catch your eye if you were strolling by. It bears a simple message only three lines long, but its words are powerful: "Happy is the mother who knows her son will never have to be a soldier."
If you headed into the countryside to visit a rural elementary school just a few miles away, you'd be greeted by a colorful hand-painted sign quoting Pope Paul VI: "Peace is great; Peace is necessary; Peace is the object of much search and much devotion. It is very difficult—extremely difficult—but not impossible."
Fighting for peace
From early childhood onward, Costa Ricans—Ticos as they prefer to be called—are taught to value peace and to see the benefits of pacifism. And they don't have to look far: Their country has no standing army, so funds that once would have gone to the military are funneled into education and social programs instead. The result is that Costa Rica is routinely rated the safest country in Central America, with the longest life expectancy in Latin America, and in 2012, it ranked first among all nations in three different "happiness index" lists.
But it wasn't always that way. The grandparents of today's schoolchildren may still remember when it took bloodshed to bring on this era of pacifism.
For more than 120 years, Costa Rica had an army. From the time of the nation's independence in 1821 onward, the military had been an arm of the government, both for good—such as when it repelled an invasion from Nicaragua—and for ill, including when it supported an early 20th-century dictatorship. But in 1948, when the military backed the annulment of democratic elections, and then surrounded the house where the popularly elected candidate was meeting supporters (one of whom was shot), the nation erupted into a civil war lasting 44 days and killing thousands.
Leading the charge of the opposition was José Figueres, an MIT-trained engineer whose force of 700 volunteers had been undermining the government for the previous two years. With deep support from the citizenry, Figueres earned the endorsement of the United States and eventually expelled the old regime. On his watch, a new, more democratic constitution was drafted, allowing women and black Ticos to vote. But its most famous provision was one in which the standing army was disbanded for good.
This made Costa Rica one of the few independent nations in the world that had no military. The idea of a peace as a national value made it a magnet for pacifists from other parts of the globe. Among them were a group of American Quakers, led by Wilford Guindon, who settled in Monteverde and became successful dairy farmers—as some of their descendants remain to this day.
Preserving pacifism
Remaining pacifist has not always been easy for Costa Rica. During the 1980s, with civil wars playing out in several neighboring countries at once, some wondered if Costa Rica might have no choice but to re-arm. Instead, the citizens elected peace advocate Óscar Arias as president. He went on to draft accords between his country and Guatemala, El Salvador, Honduras, and Nicaragua that stabilized the entire region (and won him the Nobel Peace Prize).
In light of recent provocations from neighboring Nicaragua, Costa Rica's current president Laura Chinchilla—Arias' successor and Costa Rica's first female president— faces fresh doubts about how long the nation's pacifist status can be maintained. But for now, her opinion is firm. As she said in a recent speech to the U.N. General Assembly, "Peace must go beyond action. To educate for peace is to vaccinate against war."
60 years without an army
Birds of Costa Rica
An extraordinary diversity of winged wildlife
by Tom Lepisto, for O.A.T.
Costa Rica, although a small country, is home to more kinds of birds than the entirety of the United States and Canada: a total of 857 species, according to the official list of the country's Ornithological Association. This avian abundance is due to the fact that Costa Rica has a large variety of habitats—ranging from the Caribbean and Pacific coasts to mountaintops more than 11,000 feet high—and is located at a spot where species from South and North America converge. As a result, there is feathered wildlife of every size, shape, and color in the country, including some of the world's most dazzling tropical birds.
Every shape and size
One indication of this tremendous diversity is the range of sizes among Costa Rica's birds. The smallest is the two-inch-long scintillant hummingbird, a mountain resident weighing less than one-tenth of an ounce that you might spot whirring around on a coffee plantation. The largest bird native to the country is the jabiru, a stork with a black head and white wings that can stand five feet tall with a wingspan of nine feet. You might take the scintillant hummingbird for a bumblebee as it flits by, but the sight of a jabiru spreading its huge wings as it takes flight from a river or pond could remind you more of an airplane.
Nature's kaleidoscope
The range of colors to be found among Costa Rica's birds spans every hue on the painter's palette—and in the case of the scarlet macaw, which has brilliant red, blue, and yellow tints, it seems as if they're all present at once. The resplendent quetzal is another large bird with eye-catching colors. The male has a crimson breast, a bright green "cloak" with a forked tail longer than his body, and stripes of white under the tail that add a decorative touch a fashion designer might envy. The female's feathers are a plainer solid green, but sparkle with an iridescence that adds a bit of glitter to the tropical mountain forests where these birds live.
Protecting Costa Rica's birds
Many of Costa Rica's colorful birds are faring well due to the country's dedication to preserving natural habitats—about 25% of its land is protected in parks or nature reserves. That has helped birdwatchers catch many splashes of bright color, from the orange rump on the Passerini's tanager in Guanacaste National Park to the red brow of the crimson-fronted parakeet in the Caño Negro Refuge and the scarlet head of the red-capped manakin in La Selva Reserve.
You can pick any part of a bird and find it diversified in Costa Rica. Take the beak—extended to impressive proportions (and with varied colors) in the country's six species of toucans. Among water birds, the boat-billed heron's broad beak is notable. This fascinating array of adaptations reflects the variety of food sources the birds have evolved to use: plucking fruit for the toucans, scooping shrimp from underwater mud for the heron.
In a country filled with brilliantly colored winged fauna, you might think that a bird like the quetzal would be the one chosen to represent the nation. But in fact, Costa Rica's national bird is the rather gray clay-colored robin, for reasons rooted in the country's agricultural history. The spring singing of the male robin coincides with the time of year when the rains arrive to water the crops planted by local farmers. So this grayish-brown bird was chosen as an appropriate symbol for a country where agriculture has long been a mainstay of the economy.
The sheer diversity of Costa Rica's birds is mind-boggling, and their rainbow of colors is a feast for the eyes.
An extraordinary diversity of winged wildlife