Blog
Best Costa Rica Family Friendly Resorts & Hotels for Kids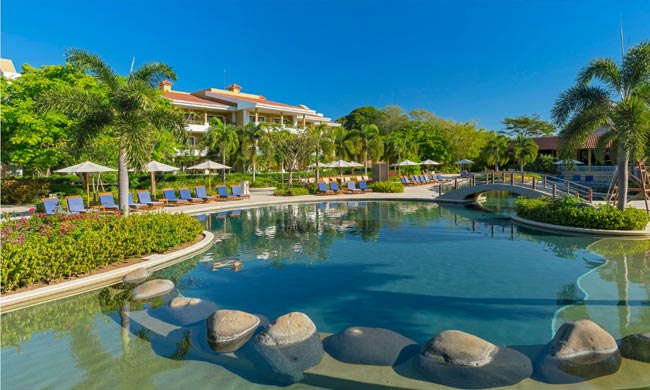 Family bonding. Happy kids. Forever memories.
They're the reason for—and the driving force behind—a vacation with our nearest and dearest. They're the promise of the top Costa Rica resorts for families.
These are the hotels, the resorts, and the accommodations that intuitively know how to keep everyone happy: Shallow pools for the little ones and family swimming pools for older kids. Safe entertainment and day clubs exclusive to the younger set. Family-friendly tours and adventures certain to awe and delight. Everything to check off every must-do off everyone's wish list.
For your next trip, swap the are-we-there-yets? for we-can't-be-done-yets!, at the best resorts in Costa Rica for families.
Expert Guide to The Best Family Resorts in Costa Rica
The top family resorts in Costa Rica
The Professionals Weigh In: Family Travel IN COSTA RICA
Beachfront, kid-friendly Costa Rica resorts
Our Favorite Arenal Volcano Family Resorts
Costa Rica Family Hotels in the Jungle
5 Reasons WHY Costa Rica is GREAT for Kids
Top 3 Activities in Costa Rica for Children Under 10
Traveling With Teenagers: Is Costa Rica a Good Fit?
Best Places to See Sloths in Costa Rica
Traveling in Costa Rica with Kids: Safety Tips
Expert Guide to The Best Family Resorts in Costa Rica
Embarking on a tropical family vacation to Costa Rica can be an incredible experience for kids and adults alike.
But often, planning that vacation isn't quite so incredible an experience. Successful travel with kids—and with their grandparents and other extended family—is a little more challenging than most other types of getaways.
That's where we—and our favorite kid-friendly Costa Rica resorts—come in. Ask our local experts to help you find the right destinations and lodging options to ensure your family will have a great time, while mom and dad relax!
Explore the best all-inclusive family resorts in Costa Rica are, glean practical tips from local experts, and discover how to make memories that will last a lifetime. Believe it or not, Costa Rica with kids or teens can be stress-free!
Fun for Everyone: The Top Family Resorts in Costa Rica
Families have very specific needs and concerns in mind for their kids while on vacation. Not to mention, no one is happy if the kids aren't happy. (We speak from experience.)
And, that's why the top Costa Rica resorts for families aren't built just for kids: They're designed for the parents and grandparents, too. Because contented kids make for delighted adults. And, safe, occupied, and entertained kids mean the adults can fully relax – finally.
The Professionals Weigh In: Family Travel in Costa Rica
In this episode of Frog Pod, local travel experts and resident moms Jamie Looper and Anastasia Maddaloni talk about all things family-related. Discover the best family hotels in Costa Rica, how safe Costa Rica is when traveling with kids, and more.
It's an important topic and we're happy to assuage your concerns or answer any questions you might have when taking your family to Costa Rica.
Beachfront, Kid-Friendly Costa Rica Resorts
When you close your eyes and envision your trip to Costa Rica, we'd wager that frondy palms and soft sands make an appearance. Oh, and are those your kids in the background, smiling from ear to ear?
They sure are, if you're vacationing at our favorite beachfront resorts in Costa Rica for families! Piqued your interest? Then, let's start here: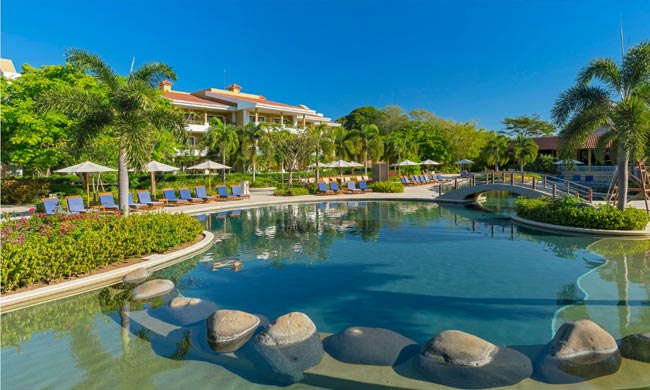 If you're looking for where to stay in Costa Rica with kids, we recommend the Westin Conchal Resort & Spa, as one of the best family resorts in Costa Rica. This splendid resort has more than 400 guest suites, many of which offer spectacular views of the Pacific Ocean and the surrounding countryside.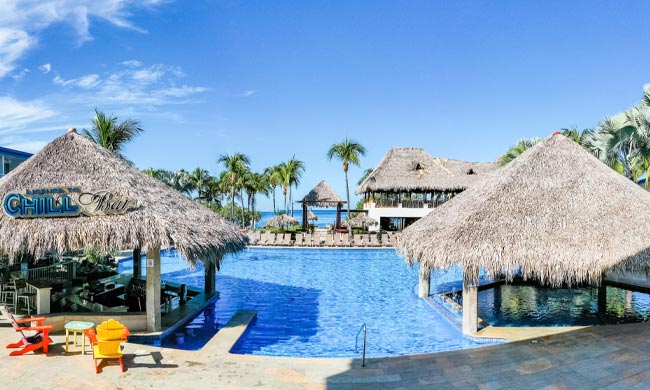 Another beachfront option, is a family-owned establishment—the Margaritaville Beach Resort. is a family-owned resort with two family pools and other kid-friendly amenities. The smaller of the two family pools even has a large palapa roof to protect young ones' (and their parents') skin from the sun's harmful rays—or just to relax in the shade as the sun climbs to its peak.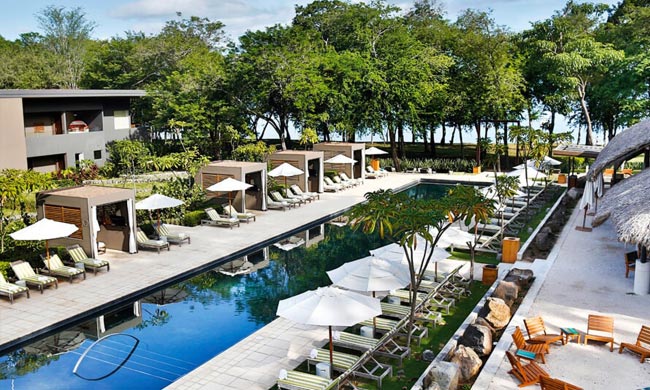 El Mangroove has a perfectly calm beach and a beach-entry pool, making the perfect playground for the little ones. Papagayo Bay resembles more a lake than an ocean. And, because it's so calm, older kids looking for activity and adventure can snorkel, kayak, and SUP board.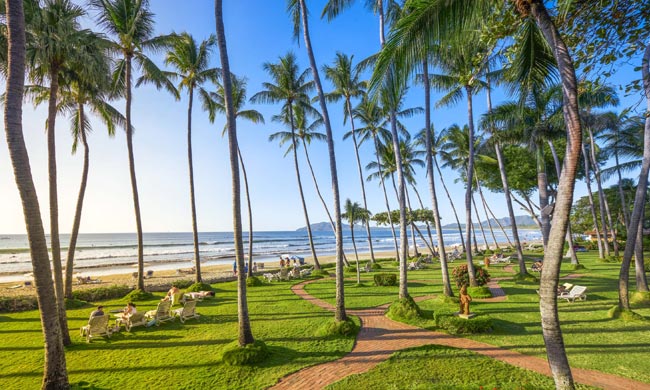 A great resort-like hotel right on Tamarindo Beach, the Diria is one of the top kid-friendly hotels in Costa Rica, offering beachfront access and kid-friendly pools.
It's the pools that make this place great for kids. They have several on-site and a small kids' pool with the perfect depth for toddlers!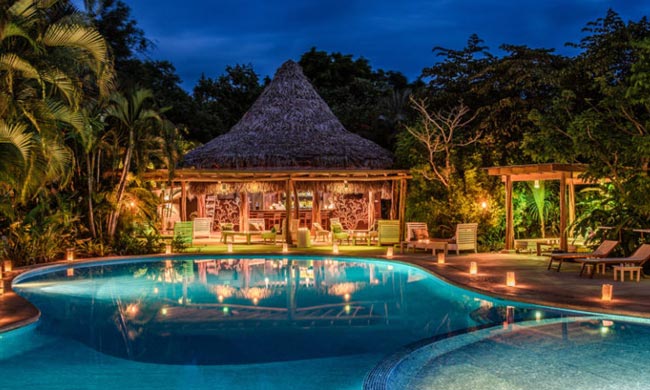 Just outside of Tamarindo, on Langosta Beach (more of a surf beach than a suitable beach for kids), Cala Luna is also all about the pools.
Children will love the main pool here, and if you stay in one of their villas, you'll have a private pool all to yourself. And, the tide pools are great for family relaxation.
Our Favorite Arenal Volcano Family Resorts
A smoking, active and almost perfectly conical volcano? Sign us up!
To parents' delight, some of the best family hotels in Costa Rica also boast commanding views of Arenal Volcano—a sight you'll never forget!—and luxurious amenities to exceed every expectation. What's more, they offer younger travelers access to a range of thrilling activities that keep young explorers entertained for hours: horseback riding on the beach, ATV rides, eco-rafting outings, and much more.
With so much to see and do amid some of the most spectacular surroundings in Costa Rica, you and your kids might not want to leave these incredible family hotels!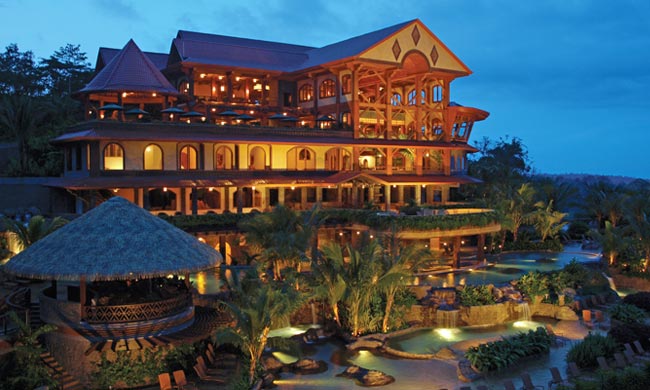 An easy choice for the best resorts in Costa Rica for families.
We love the dedicated family pool and range of kid-thrilling activities: horseback riding on the beach, ATV rides, excursions through the incredible La Paz Botanical Gardens, eco-rafting outings, and much more.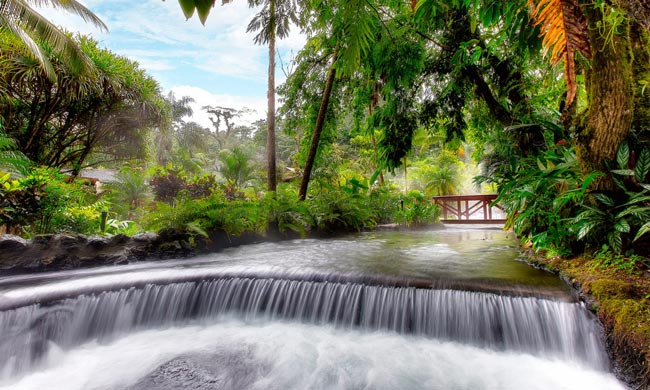 Near the Arenal Volcano, the Tabacon has a true jungle vibe.
Check out the amazing on-site natural hot springs. While bathing in these hot springs, you feel immersed in the rainforest. Plus, Tabacon has all the luxuries and amenities we all enjoy when traveling with kids.
Costa Rica Family Hotels in the Jungle

There's always a lot of talk about the beach, but Costa Rica is more than the beach.
Your Costa Rica family vacation isn't complete, until you introduce yourself and your children to the rainforest.
There are quite a few excellent jungle hotels for families that provide the perfect family experience in the rainforest. Yes, monkeys and sloths and toucans included! Here are a few of the best family resorts in Costa Rica's rainforest wilds: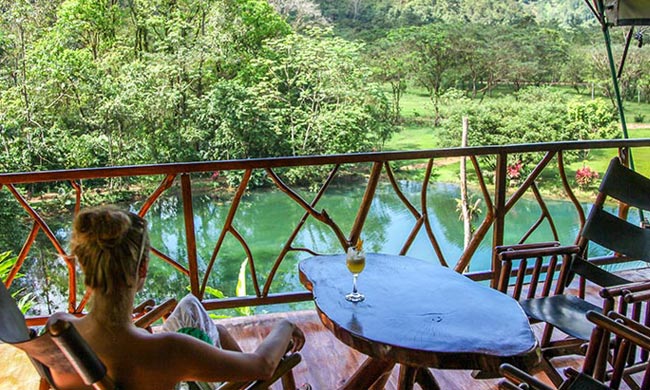 Rafiki Safari Lodge is a total jungle hotel, comprising luxury tents settled way back in a remote valley, well off the beaten track.
When here, you feel completely removed from everything—but there are still tons to do for kids. Activities like rafting, horseback riding, and waterfall hiking are all at Rafiki. You can also explore lots of on-site trails on your own.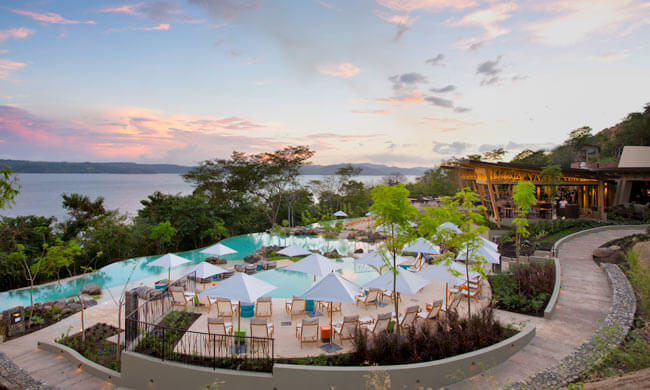 In the Papagayo Bay, this hotel still has an amazing beach-and-jungle vibe.
The wildlife spotting opportunities from your breakfast table are unmatched! Monkeys, birds, iguanas, and more! We love the view from the pool: you're eye-level with the jungle stretching over the beach. Don't skip the lush green jungle-view rooms!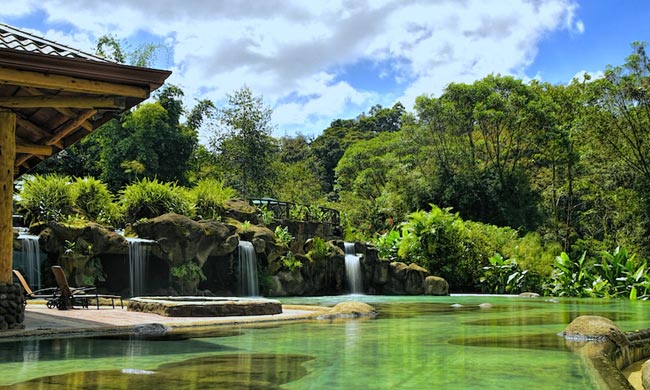 In the cloud forest, not far from San Jose, Peace Lodge has it ALL for kids and adults of every age!
A tilapia pond, waterfall gardens to hike, a wildlife refuge, pools, and so much more! All this makes Peace Lodge our top family-friendly jungle hotel.
5 Reasons Why Costa Rica Is Great For Kids
1. Plenty of Adventure Activities
It's no hyperbole: There really is something for everyone in Costa Rica—kids and adults alike!
Costa Rica offers so much to fit everyone. There are tours the whole family can enjoy, together, without worrying if the littles can keep up.
Our favorite kid-friendly activities in Costa Rica include waterfall exploring, light hiking through national parks, exploring the rainforest by boat, snorkeling, catamarans, zip-lining, and more!
Everything is an adventure here. From walking the beaches to hiking in the jungle, the country—with some help from the top Costa Rica resorts for families – has so much to see and do. With the right attitude, you can turn anything small into something big!
2. Nature and Wildlife to Observe
If your kids are wild about animals—and most kids are, at some point or another—then Costa Rica is a perfect choice. Sloths and monkeys abound, and even creepy-crawlies, spiders and snakes fascinate the little ones.
Take them snorkeling to spot bright-colored fish under the waves, or even spot dolphins if they're lucky.
And, did we mention sloths? Everyone adores the sloths!
3. Child-Friendly Ambiance
Costa Rica LOVES LOVES LOVES kids of all ages.
Costa Ricans are incredibly accommodating to kids—you get to the front of the line everywhere with kids under five. They care and love our next generation more than any other country I've visited.
4. Kid-Friendly Costa Rica Resorts
Most hotels are VERY family-orientated and have sections dedicated to children, like kid-friendly pools or on-site playgrounds. Some also have kids' clubs or activities planned for them during the week. (See above!)
4. Educational Experience
Costa Rica helps our young people realize what a big world it is.
From speaking Spanish to spotting wildlife (in the actual wild) and witnessing first-hand sustainability practices, there's always something for kids to learn and take with them for the rest of their lives. These are just a few reasons why a family trip to Costa Rica is a great vacation choice.
Ready to plan your family vacation to Costa Rica?
Top 3 Activities In Costa Rica For Children Under 10
When it comes to bringing children under 10 to Costa Rica, opinions differ. There's a solid school of thought recommending to wait a while, until the kids are older before coming down here. You'll see that opinion expressed all over the internet.
We disagree. Costa Rica is the perfect choice for a family vacation, especially when traveling with younger children.
Bottom line: If you have young children and don't want to wait, you don't need to. Sure, your little ones won't be rafting class IV rivers, rappelling through waterfalls, or surfing the wildest waves. But, they will search for wildlife, learn new abilities, and explore some of the most biodiverse areas in the country while their eyes open to the whole wide world.
There are plenty of activities for children under 10 in Costa Rica to enjoy. Here are some of our favorites.
Sloth Spotting Among the Leaves
One thing our clients with small children nearly always ask about are sloths.
"Can I see sloths?" "Where's the best place to find sloths?" "My little girl is desperate to see a sloth!" These questions are common. And as parents of small children ourselves, we get it. Our kids love sloths, too.
What's not to love? Although not rare, sloths aren't exactly super-common either. You won't see them everywhere like, say, parrots or iguanas. And they can be hard to spot, sitting up there, doing absolutely nothing in the trees.
This is why some reserves in our country provide safe spaces for both sloths and kids to hike and learn about them, like in our sloth spotting tour. When your kids actually see a sloth, it'll make their day and they'll love you forever for giving them the privilege. That's the idea, anyway.
Surfing Waves for Beginners and Pros
Costa Rica is a surfer's paradise, but it's not only for the experts. Sure, there are big waves unsuitable for small kids, but smaller waves with nice beach breaks also exist. So it's possible, if you surf yourself, to enjoy some quality time in the water with your younger children.
You can give your kids surf lessons. If you can't teach them yourself, use an expert! The best beaches for children to learn to surf are Tamarindo in Guanacaste and Espadilla Beach in Manuel Antonio. Both beaches are safe and sandy and perfect for beginners.
If your small kids start young, they might well discover a passion for the ocean to last their entire lives.
Nature Walks for All Ages
If you're with small children, it's likely you're not going to get into any extreme hiking or mountain climbing with them. It's better sometimes to not get too far off the beaten track.
Luckily, here in Costa Rica, you don't have to. So many hotels have their own nature trails on their grounds—places where you can search for sloths, tropical birds, and other animals. A nature walk with the kids is easy and some places have their own naturalist guides, too.
Lots of kids love insects and spiders as well, so try out a night hike to check out tarantulas, night-glow scorpions (non-lethal!), and other nocturnal critters. Night starts at 6:00 PM here, so it's not past anyone's bedtime, either!
Here are a few other family favorites: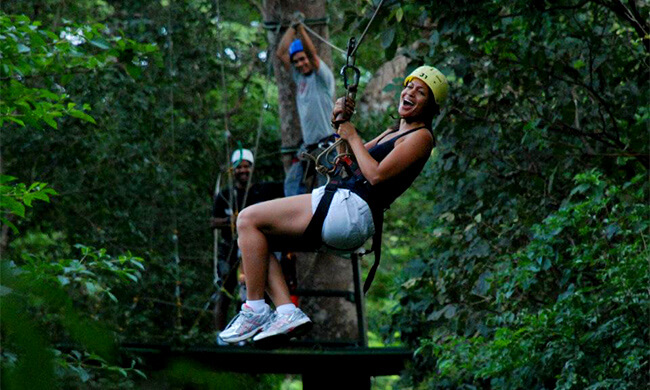 On the surface, zip lining might seem unsuitable for small kids. But in fact, many zip line outfits—the more reputable ones who we work with—allow children under 10.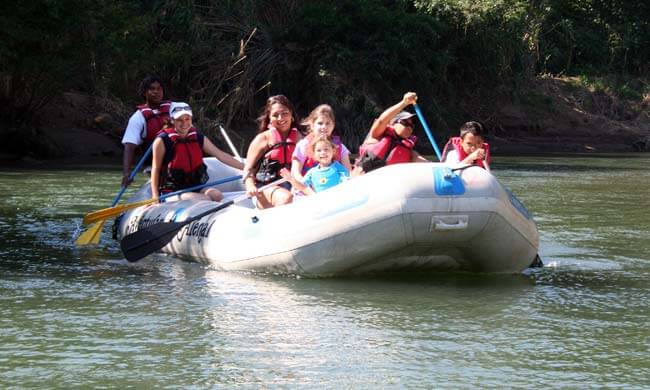 While your children under 10 won't be rafting hardcore rivers, that doesn't mean they can't get wet. Costa Rica has tons of river activities available for small children, from ocean sailing trips to safari floats on jungle rivers.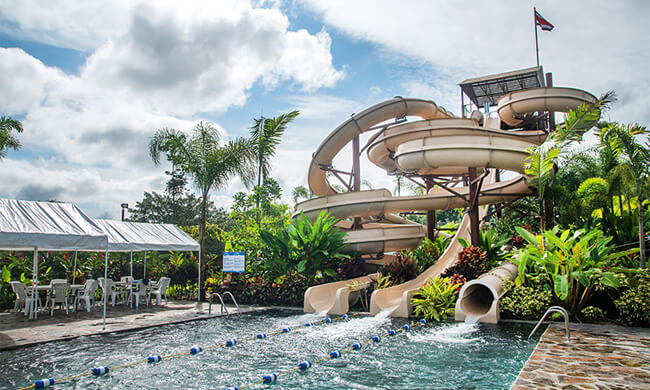 If you want to give the little ones a treat, take them to a resort in Arenal, where they'll have hot springs to choose from, as well as a ton of other kid-friendly activities to enjoy.
Traveling With Teenagers: Is Costa Rica A Good Fit?
It's well known that teenagers can be the most difficult travel companions. Let's face it—they're too old to enjoy being stuck with their parents on vacation but too young to travel solo with their friends.
We've all been teenagers ourselves and can identify, right?
Luckily, Costa Rica is different, and has tons of activities for teens. Tons of things to make them forget they're embarrassed to be with you. In fact, a family trip to Costa Rica might be the best thing you can do to maintain your "coolest parents in the world" rep. Win, meet win.
All those things unsuitable for little ones—action-packed trips with rafting, waterfall rappelling, caving, tubing, surfing decent waves—are perfect for teenagers. They can ride quad bikes and paddle their own kayaks, as well.
And they'll get an education, to boot.
Teenagers can learn about cultural differences and environmental practices in a more profound way than small kids. Take them volunteering for a day, so they can involve themselves with Costa Rica's local culture and lifestyle.
And hey, if you're like the rest of us and you have the type of teenager who wants to do nothing except stare at a phone poolside—well, that's okay, too. Most hotels have great WiFi and sooner or later, they'll start Instagramming their jealous friends back home about how awesome their vacation is. Even if they don't tell you themselves.
The only downside to bringing teenagers to Costa Rica is having them complain about why they can't live there, once you're back home!
Best Places To See Sloths In Costa Rica
Although sloths are not the official national animal of Costa Rica, they might as well be. Almost everyone thinks they are, which leaves the actual national animal—the white-tailed deer—feeling a little unloved.
Sloths are the most asked-about animal in Costa Rica, at least among most family travelers. Everyone tells us their kids want to see sloths and they're all hoping to get a good picture of one hanging upside down or munching on a leaf. This is why we even have vacation packages aimed for sloth-lovers!
If sloths are one of the highlights for your Costa Rica family vacation, then there are ways to get close to them to snap that photo and learn more about them and their habitat. So, where are the best places to check out these cute creatures?
National Parks & Nature Reserves
Like monkeys, sloths are not rare in Costa Rica, so it's not very hard to see them if you're in the right place. Both the Manuel Antonio and Arenal areas are famous for having sloths in their rainforests.
The problem is that they don't move much, making it easy to miss them. This is why it's always worth taking a national park or nature reserve tour with a naturalist guide in Costa Rica. These guys are expert sloth spotters and will find them for you.
Private Rescue & Preservation Centers
There are also rescue centers for sloths in Costa Rica. The most famous is the Sloth Sanctuary, in Cahuita on the Caribbean coast. This place has been rescuing and rehabilitating injured and orphaned sloths for over 20 years.
Also on the Caribbean side, is the Jaguar Rescue Center in Puerto Viejo. They do the same sort of work as the Sloth Sanctuary and also have their own release center nearby.
In addition, the Arenal Volcano area has another private sanctuary run by a local family. This property protects a forest in La Fortuna where travelers of all ages can visit and walk its paths in search of sloths.
Non-Profit Research Institutes
In Manuel Antonio, there's the non-profit Sloth Institute, which is more about research and rescue. They are not open to the public.
Hanging Around in the Trees
Outside of the parks and nature reserves, we've seen sloths in many places. After all, they live in the country and they might show up in unexpected or less secluded areas.
The Parador Hotel in Manuel Antonio, for example, has sloths living on its grounds, as does the Nayara in Arenal. You'll find sloths all over the place in the Caribbean towns of Cahuita and Puerto Viejo, too. We've even seen sloths in San Jose, in the Escazu Mountains!
Traveling In Costa Rica With Kids: Safety Tips
Costa Rica is a very safe country for travelers of all ages. As with any other vacation, a family trip to Costa Rica requires you to take the usual precautions.
You know the deal: Don't have valuables on you, don't wander around at night, and all that. But, if you have kids with you, you're likely not going out partying every night. You're likely not getting yourself into "situations".
Here are a few things to keep in mind, to ensure you and your family have as safe and stress-free Costa Rican family vacation as possible.
1. Apply Sunscreen Liberally
Costa Rica is a hot, sunny country near the equator. The sun can be brutal, especially on fair skin.
Bring decent sunblock with you (it's expensive in Costa Rica) and keep your children covered in it at all times, especially if they're in or on the water. Better to keep them covered in a t-shirt or rash guard, too.
2. Mind the Big Waves & Currents
We've already talked about some of the best beaches in Costa Rica for kids, but even on these beaches, don't be complacent when it comes to your child's safety.
Keep a watchful eye on them at all times and if they're not strong swimmers, and don't let them enter the water unaccompanied. Look out for signs about rip tides and crocodiles, and if in doubt, ask a local. If no-one's swimming on a beach, or if people are only surfing, there's a reason why.
Also, be aware that lifeguards are nonexistent on Costa Rican beaches.
3. Food & Drink for Kids
Costa Rican food is healthy, nutritious, and delicious. But that doesn't mean your child's more sensitive stomach might not feel the effects of, well, eating something different. Any initial reaction to new food should dissipate in a day or so, but bring something for an iffy stomach nonetheless.
The water in Costa Rica is fine to drink for the most part, but again, those different microbes might catch up with your kid. Bottled water is available everywhere.
4. Protect Against Bugs & Mosquitoes
Bring repellent to Costa Rica and slap that on your kids in the evenings, once you've washed off the sunscreen from the day.
Being eaten alive by mosquitoes is miserable and they love young, fresh flesh! The chances of picking up a serious mosquito-borne disease are small. But even so, if your child is itching and complaining during the vacation, it's not nice for them or for you.
Long sleeves and bug spray will help avoid that, too.